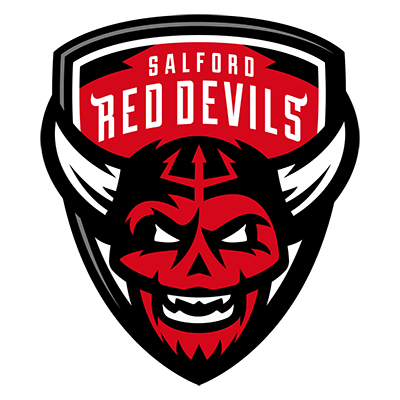 Salford Red Devils
16
23
Hull FC

Sun 7th Apr 2019, 15:00, RD: 9
ATT:
Josh Jones, Niall Evalds, Jackson Hastings
Josh Griffin crossed over for a hat-trick as Hull FC claimed a 23-16 victory over Salford Red Devils at the AJ Bell Stadium.
The Black and Whites moved up to sixth in the Betfred Super League table as a result as they bounced back from a 51-point defeat to Warrington Wolves last weekend to beat the home team with an improved second-half display.
Griffin opened the scoring before Marc Sneyd converted and added a penalty goal to put the visitors 8-0 up but Salford hit back through Josh Jones as Edwards Chamberlain added the extras.
Sneyd put Hull further ahead for a 10-6 half-time lead before Griffin scored his second try and the former nailed his conversion ahead of Griffin completing his hat-trick.
FULL TIME! A really hard fought victory by Hull, with Josh Griffin's hat-trick against his old club getting the boys back to winning ways!

Hull win 23 16 at the AJ Bell! pic.twitter.com/XOEVAFsZKM
— Hull FC (@hullfcofficial) April 7, 2019
Niall Evalds touched down in the right-hand corner to give the home side some hope and Sneyd's third-successful penalty goal made it 22-10.
Jackson Hastings replied with a try for Salford - which Chamberlain converted - with 11 minutes left, while Sneyd kicked a late drop-goal to confirm the win.
73 Mins:
DROP GOAL
16 Salford
23 Hull FC
DROP GOAL scored for Hull FC by Marc Sneyd
71 Mins:
GOAL
16 Salford
22 Hull FC
scored for Salford Red Devils by Ed Chamberlain
70 Mins:
TRY
14 Salford
22 Hull FC
Try scored for Salford Red Devils by Jackson Hastings
66 Mins:
GOAL
10 Salford
22 Hull FC
scored for Hull FC by Marc Sneyd
58 Mins:
TRY
10 Salford
20 Hull FC
Try scored for Salford Red Devils by Niall Evalds
51 Mins:
TRY
6 Salford
20 Hull FC
Try scored for Hull FC by
48 Mins:
GOAL
6 Salford
16 Hull FC
scored for Hull FC by Marc Sneyd
47 Mins:
TRY
6 Salford
14 Hull FC
Try scored for Hull FC by
37 Mins:
GOAL
6 Salford
10 Hull FC
scored for Hull FC by Marc Sneyd
20 Mins:
GOAL
6 Salford
8 Hull FC
scored for Salford Red Devils by Ed Chamberlain
18 Mins:
TRY
4 Salford
8 Hull FC
Try scored for Salford Red Devils by Josh Jones
11 Mins:
GOAL
0 Salford
8 Hull FC
scored for Hull FC by Marc Sneyd
6 Mins:
GOAL
0 Salford
6 Hull FC
scored for Hull FC by Marc Sneyd
5 Mins:
TRY
0 Salford
4 Hull FC
Try scored for Hull FC by
T
TA
TK
MT
MI
TB
AT
C
M
AG
CB
DR
E
FT
G
MG
OF
P
DG
KGP
YC
RC
Niall Evalds
1
-
6
-
3
3
-
10
93
9
2
-
-
-
-
-
1
-
-
-
-
-
Edward Chamberlain
-
-
9
2
2
5
3
11
82
8
1
1
1
-
2
1
1
-
-
3
-
-
Kris Welham
-
-
4
2
-
2
-
5
31
6
-
1
-
-
-
-
-
-
-
-
-
-
Jake Bibby
-
-
15
3
-
-
-
12
83
7
-
1
1
-
-
-
2
-
-
-
-
-
Robert Lui
-
1
16
2
6
6
6
16
73
5
-
1
1
-
-
-
-
-
-
8
-
-
Gil Dudson
-
-
37
8
1
-
-
17
113
7
-
-
-
-
-
-
-
2
-
-
-
-
Joshua Jones
1
-
15
4
-
2
1
6
26
4
-
-
-
-
-
-
-
-
-
1
-
-
George Griffin
-
-
48
14
4
1
-
11
53
5
-
-
1
-
-
-
-
3
-
-
-
-
Mark Flanagan
-
-
31
7
2
-
-
7
46
7
-
-
-
-
-
-
-
1
-
-
-
-
Joey Lussick
-
1
40
8
2
-
-
4
25
6
-
4
-
-
-
-
-
2
-
-
-
-
Adam Walker
-
-
24
3
2
1
-
16
98
6
-
-
1
-
-
-
2
-
-
-
-
-
Greg Burke
-
-
25
7
-
1
-
5
18
4
-
-
-
-
-
-
2
-
-
-
-
-
Ben Nakubuwai
-
-
23
4
2
-
-
6
44
7
-
-
1
-
-
-
-
-
-
-
-
-
Derrell Olpherts
-
-
4
1
-
6
-
18
171
10
1
2
2
-
-
-
1
-
-
-
-
-
Jansin Turgut
-
-
15
2
4
1
-
6
29
5
-
-
1
-
-
-
2
-
-
-
-
-
Krisnan Inu
-
-
17
2
5
5
1
12
87
7
3
-
1
-
-
-
1
1
-
1
-
-
Jackson Hastings
1
-
13
3
1
2
3
15
69
5
1
1
1
-
-
-
1
-
-
4
-
-
Player
T
TA
TK
MT
MI
TB
AT
C
M
AG
CB
DR
E
FT
G
MG
OF
P
DG
KGP
YC
RC
Bureta Faraimo
-
1
8
-
3
3
1
13
72
6
-
3
1
-
-
-
2
-
-
1
-
-
Carlos Tuimavave
-
-
10
1
3
1
-
9
69
8
-
5
-
-
-
-
-
1
-
-
-
-
Josh Griffin
3
-
9
1
5
7
-
14
102
7
2
1
1
-
-
-
-
-
-
-
-
-
Albert Kelly
-
-
19
2
4
1
-
7
38
5
-
-
2
-
-
-
-
-
-
2
-
-
Marc Sneyd
-
1
8
-
1
1
4
5
13
3
-
-
-
-
5
1
1
-
1
13
-
-
Scott Taylor
-
-
19
4
-
3
-
6
70
12
-
-
-
-
-
-
-
-
-
-
-
-
Danny Houghton
-
-
51
4
3
-
-
8
36
5
-
6
1
-
-
-
1
2
-
-
-
-
Mark Minichiello
-
-
28
6
8
5
-
18
117
7
-
1
-
-
-
-
-
1
-
-
-
-
Joe Westerman
-
-
37
5
1
1
-
15
77
5
-
-
2
-
-
-
-
-
-
-
-
-
Sika Manu
-
-
22
5
1
1
-
8
52
7
1
-
-
-
-
-
1
-
-
-
-
-
Jordan Lane
-
-
20
1
1
2
-
5
28
6
-
-
-
-
-
-
-
1
-
-
-
-
Mickey Paea
-
-
24
3
1
2
-
10
74
7
-
-
-
-
-
-
-
-
-
-
-
-
Jack Logan
-
-
7
-
-
1
-
9
38
4
-
3
2
-
-
-
-
1
-
-
1
-
Danny Washbrook
-
-
6
3
-
-
-
2
9
5
-
1
-
-
-
-
-
-
-
-
-
-
Gareth Ellis
-
-
15
1
1
3
-
11
96
9
-
-
-
-
-
-
-
-
-
-
-
-
Andre Savelio
-
-
25
2
3
2
-
7
49
7
-
-
-
-
-
-
-
-
-
-
-
-
T: Tries
TA: Try assists
TK: Tackles
MT: Marker tackles
MI: Missed tackles
TB: Tackle busts
AT: Attacking kicks
C: Carries
M: Metres
AG: Av gain
CB: Clean break
DR: Run from dummy half
E: Errors
FT: Forty twenty
G: Goals
MG: Missed goals
OF: Offload
P: Penalties
DG: Drop Goals
KGP: Kicks in general play
YC: Yellow card
RC: Red card